Welcome to our web site! From "D.T Videos"

On our website it will feature information regarding our Videos and DVD's we have from the World of Banger Racing!
We film officially at such venues as: Ringwood Raceway, Smeatharpe Stadium Taunton, SAA Horndean Raceway
and occasionally at United Downs St. Day, Oval Raceway Worthing and Layhams Farm Raceway!
You can find all the information you need on the following links to certain DVDs and videos down the navigation tools!
Website last updated 4th December 2008
BRAND NEW OUT
POSH WASH ON TOUR
2008
AVAILABLE ON DVD £12
Autospeed's hard hitting team is back which can only mean yellow and black! The Posh Wash on Tour 2008 the 4th edition of their annual compilation. This featuring most of their meetings across the United Kingdom travelling far and wide even including Belgium! Featuring venues such as Smeatharpe, St Day, Ringwood, Arlington, Mendips, Standlake, Belgium's superfast Warneton Speedway and many more! Highlights of the team in action on this DVD include Bona & Werzal's rated displays in Belgium, 133 Werzal's absolute huge head on at Ringwood with Ace Ash, 228 Capstar's big hit on 988 Billy Dennison at Crasharama, 199 Bona's titanic shot on Oggy at Blockbusta, 333 Randells large follow in on 134 Toady at Arlington, 341 Joneseys big hitting performances at both Ringwood and Smeatharpe claiming several victims, the teams destructive performance at both the "Big Banger Teams" and "Teamarama" this also includes 341 Joneseys English title winning race which he won at Mendips!
This DVD is packed with all there me car footage and much more!
SIT BACK AND ENJOY!

DVD AVAILABLE £12

Check how to order on orders page
SORRY FOR THE LACK OF UPDATES
NEW DVDs out include
RINGWOOD UK OPEN AND ROOKIE WORLD 22/11/08 £10 DVD
RINGWOOD 1600cc BANGERS 08/11/08 £10 DVD
RINGWOOD 1600cc BANGERS REG SLACK MEMORIAL 01/11/08 £10 DVD
SMEATHARPE TEAMARAMA 10 TEAM BANGERS 26/10/08 £10 DVD
RINGWOOD MICRO BANGERS AND HALOWEEN STUNT 25/10/08 £10 DVD
SMEATHARPE VANS-BANGERSTOX-SALOON STOX-F2S 12/10/08 £10 DVD
RINGWOOD VAN BANGER WORLD FINAL 11/10/08 £10 DVD
HORNDEAN 2 LITRE BANGERS AND NUDGE AND SPIN 28/09/08 £10 DVD
RINGWOOD ROOKIE BANGER TEAMS 27/09/08 £10 DVD
HORNDEAN CHALK CHALLENGE 14/09/08 £10 DVD
RINGWOOD CARAVAN BANGERS 13/09/08 £10 DVD
SMEATHARPE BANGER WORLD CHAMPIONSHIP 07/09/08 £11 DVD
SMEATHARPE RAMP ROLLOVER-BANGERSTOX-MINITSTOX-F2S 25/08/08 £10 DVD
ST DAY BLOCKBUSTA UNLIMITED BANGERS 24/08/08 £11 DVD
SMEATHARPE STOCK CAR WEEKEND F2S AND SALOON STOCK CAR NATIONALS 16.17/08/08 £18 2 DISC DVD
RINGWOOD TORNADO WEEKEND 2 9.10/08/08 £18 2 DISC DVD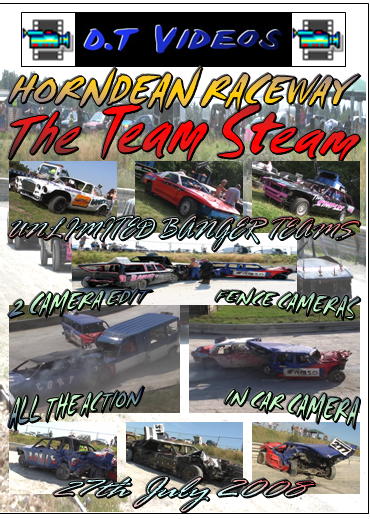 Horndean Raceway held its annual team championship for unlimited bangers on the chalk oval on the 27th July with around 6 teams in attendance with the Simples, Blitz, Team Small, Full Monty and the Crazy B'stards. Although there was not the biggest turnout of bangers the action made up for it with 32 Matt Small in wrecking mode all day long with in car camera featured aswell of all his hits, 959 Aaron Keeogan's stiff shot on 31 in the heats 1 and 2 pile up, 32 Matt Smalls full length shot on 277 Mr Perv in the DD and 681 Small dicks huge shot on 937 Derek Lines in the destruction derby which completely destroys his Volvo estate in fine fashion. This DVD is a 2 camera edit with 2 fence cameras also and an in car camera with 32 Matt Small which has some impressive footage! This DVD also includes intro section, pit footage, parade highlights packages etc.
DVD or VHS £10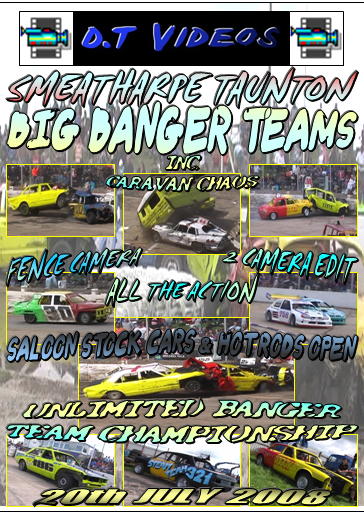 Smeatharpe Stadium held the inaugural big banger team's event on the 20th July with a lower than expected turnout but the action made up for it in a big way, supporting the bangers was the Saloon Stock Cars and the West Country Open for Hot Rods. The teams for the bangers were Autospares Allstars, Steam Team, Cheese and Tomato and 3 teams of Posh Wash which ran riot all afternoon. Action in the bangers comes thick and fast with big hits and lots of action with 133 Werzal's cracking display with hits on 734 Hooper, 908 Brown and 249 Brock, the cracking wrecking train in heat 2 with 460 Numpty, 298 Showman, 718 Adie Brown & 341 Andrew Jones, Jones who also was involved what was crash of the day with a huge hit on 158 Sean McCarthy in the Demolition Derby other highlights include 333 Steve Randall Getting followed in.
This DVD is a 2 camera mix for your viewing pleasure with highlights packages with shots from our fence camera also and the caravan race included after the bangers with all the banger races grouped together at the start with the support formulas after!
DVD or VHS £10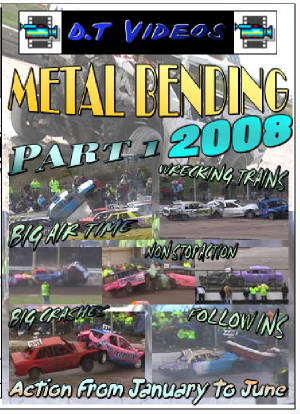 Welcome to the 1st 2008 Instalment of Metal Bending this being part1 with action from January to June in the banger racing world. This DVD has non stop action from start to finish with lots of big crashes from lots of the big events on the banger calendar. This DVD includes footage and action from Smeatharpe, St Day, Ringwood, Standlake, Kings Lynn, Mendips, Sheffield and Horndean. This DVD is put together in sections with a special menu page, intro section, graphics, slow motion replays and a highlights package at the end for you to enjoy the big crashes again one more time. The top action on this DVD includes the epic crash at Boneshayker involving Maverick 46, Babsy 988 and Mooran 997, 602 Mr Moody's simply storming one man show at the same meeting, 366 Boon's hard head on with 68 Dicko at Horndean's Head to Head meeting, 451 Willy Blackwell's performance at Kings Lynn not driving round anything, 691 Snappers and 350 Dan Peels big hits at Sheffield and some simply cracking action at our regular track Smeatharpe with a simply cracking wrecking train at One Sunnys Day and 331 Boxer Jacks's impressive follow in on 421 Nigel Riley at Crasharama this and plenty more feature on this action packed crash DVD!
SIT BACK & ENJOY!
DVD or VHS £12 each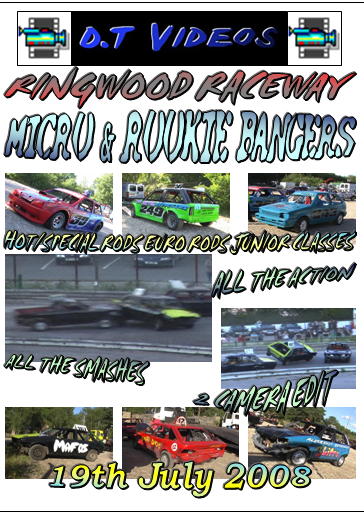 Ringwood Raceway hosted a 6 formula meeting with over 19 races on the 19th July with Novice Juniors, Junior Rods, Euro Rods, Hot Rods, Rookie Bangers and Micro Banger Open. All these formulas except novice juniors attracted decent fields of cars for good racing. Action in the bangers comes thick and fast with highlights including 167 Mafo's big follow in in heat 1, 409 Joey Collins destruction of 12 Wiglet in heat 1, 77 Matt Timms heavy shot going into the derby and other many highlights. This DVD is a 2 camera edit of the bangers with all the other race included aswell from the evening. This DVD has a menu page starting and closing sequences for the DVD for you to enjoy the best bits action over and over again!
DVD only £10